About Watergate Bay
Situated on the north coast of Cornwall, Watergate Bay has made a name for itself
having a lasting combination of laid-back surf and great food.
Beach living
Two miles of golden beach, roller coaster waves, great food and spectacular sunsets make Watergate Bay an all-day, all-year type of place.
The west-facing sandy beach with its Atlantic vista has long areas of smooth golden sand. Rocky outcrops to the sides of the arched bay are perfect for a spot of rock pooling.
The bay is sheltered by steep rugged cliffs, helping the sand to stay plentiful, even at high tide.
Surrounded by walks across the cliff tops, you can reach Newquay to the south and Padstow to the east.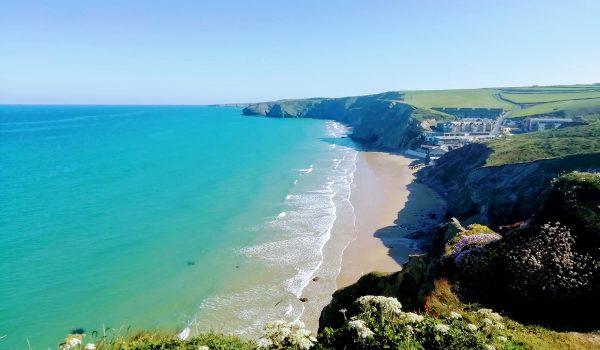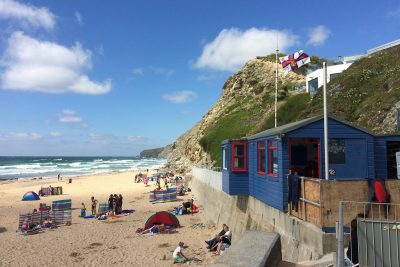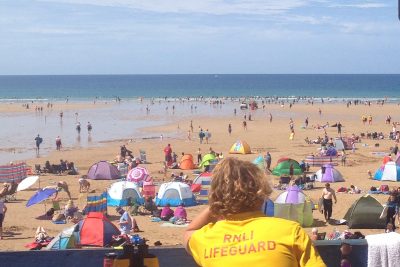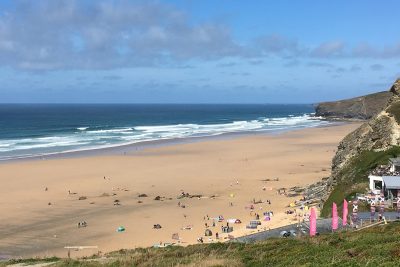 Ride the waves
Undoubtedly Watergate Bay is famous for its surf.
Whether you're a novice or experienced in the water, the Atlantic swells have provided great conditions for all water sports and equipment as well as tuition are on hand throughout the year.
Annual surf competitions are complimented by Polo on the Beach, Thundercat racing and stand-up Paddleboarding competitions, great for enthusiasts and spectators alike.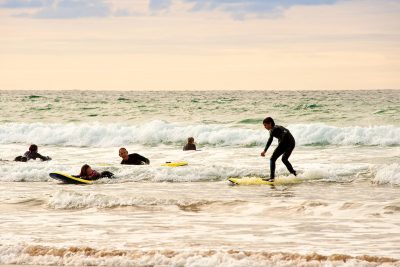 Watergate Bay is a magnet for surfers
The beach has RNLI lifeguards throughout the peak season from 10am until 6pm as there can be strong rips in either direction in the water, a major surf bonus but worth watching out for before wading in too far.
As well as surfing, paddle boarding, kite surfing, bodyboarding and good old-fashioned kite flying are all popular.
The beach is very family friendly – a bucket and spade and a dollop of suncream may well be all that's needed.
The Food
Be it breakfast, brunch or evening meal, you'll be spoilt for choice with the great restaurants and eateries surrounding the beach. Zacry's classic brasserie and The Beach Hut's gourmet burgers are complimented by British-themed food at Wax.
Smaller cafés provide some delicious cakes and coffee whilst an extreme hot chocolate from The Beach Hut is an indulgence worth experiencing.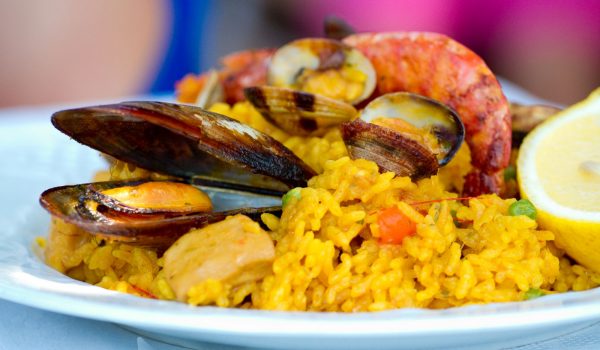 Practically speaking
The beach is easy to access with a pay and display car park situated centrally right at the entrance and a further pay and display car park just over the road where toilet facilities including shower areas are easily accessible.
Newquay Airport is just 2 miles up the road where it's advisable to pre-book a taxi or check the First Bus timetable which offers a regular bus service.
Newquay town and beaches are just 3.5 miles away and Padstow 11 miles, with seven beautiful bays and beaches along the way.