Great Cornish Gardens
Cornwall enjoys some glorious gardens and there are over seventy you could visit! The warm gulf stream and mild climate create growing conditions which support many sub-tropical, exotic and rare species not found elsewhere in the British Isles. The following are a selection of some of Cornwall's unique and magical award-winning gardens.
Eden Project
One of Cornwall's most iconic landmarks, the Eden Project is a truly memorable experience in an epic location. Consistently voted one of the UK's best attractions, it is both an educational resource and an environmental showcase demonstrating in a vibrant manner how plants and people depend on each other for mutual survival on our planet.
Acres of flowers and herb-scented pathways wind down to two giant biomes supporting the world's largest indoor rainforest. Rising out of the earth in what was a disused china clay pit and filled with plants from around the globe, the Eden Project aims to inspire and educate.
Opening Times
Usually, open every day except Christmas day.
The last tickets sold half an hour before the biomes close. Please check opening times before your visit as biomes may close early to maintain the health of plants.
Year-round activities, a shop and cafés serving tasty wholesome food from around the world, offer a full day out for all.
The Rainforest Biome
The first thing you will notice here is the humidity – you really are in the rainforest! Towering trees and lush tropical plants line the pathways as you wind around all four of the world's rainforest environments: the Tropical Islands, Southeast Asia, West Africa and Tropical South America.
Discover the story behind cocoa, and see what it would be like to live in a Malaysian hut and work in the paddy fields. Look out for roul-roul partridges and Sulawesi white-eye birds on the way. There's even a waterfall! Venture up the Canopy Walkway to the topmost platform and you'll even discover what being at the top of a rainforest is really like.
The Mediterranean Biome
Representing the climate found in the Mediterranean, South Africa and California; pathways are filled with over 1000 plants including citrus fruit, herbs, olives and colourful flowers. Intertwining cork sculptures and natural scents feed the senses whilst giant aloe vera plants amaze. Each day, the Eden Storytellers are situated here bringing tales and songs to life. Once you've discovered everything you may want to enjoy some food in the Eden Kitchens, situated linking the Mediterranean and Rainforest biomes.
The Gardens
Eden is equivalent to the size of 30 football pitches and makes use of its outdoor space to grow flowers and plants which help produce fuel, and are medicinal or useful in some way.
Colourful borders lead to play areas, cafés and a stage. In the winter months, an indoor ice rink is situated in the centre and there's a year-round zip wire (the longest in Britain), and a giant swing (payable separately)!
The Core
Press buttons, wind handles or make a dispersing seed pod to find out about energy, recycling and ecosystems amongst other things.
Housed in a carefully designed building, made to resemble the layers of a sunflower, there are also play areas and crafts.
Eden Project Gallery
Images courtesy of Hufton + Crow and Visit Cornwall.
The Lost Gardens of Heligan
'The Lost Gardens of Heligan are the garden restoration of the century' (The Times). Cornwall's award-winning gardens extend to some 80 acres of superb pleasure grounds together with a magnificent complex of walled gardens and a lush sub-tropical jungle.
Heligan really is a delight of discovery. Hidden around corners are unusual sculptures which add to the mystical atmosphere. Navigate the jungle rope bridge, relax in the Italian formal garden, imagine the life of yesteryear in the working Kitchen Garden and then taste its bounties in the kitchen and bakery. Plant lovers will enjoy the nursery and gift shop.
Opening Times
With the exception of Christmas Eve and Christmas Day, the gardens are usually open every day.
Spring & Summer: 10:00am – 6:00pm. Last entry 4:30pm.
Later opening until 7.30pm during Theatre month, late July – August.
Last tickets 6:00pm.
Autumn & Winter: 10:00am – 5:00pm. Last entry 3:30pm.
The Lost Gardens of Heligan Gallery
Images courtesy The Lost Gardens of Heligan & Visit Cornwall.
Trebah Garden
The dramatically beautiful 28-acre Trebah Garden is listed among the 80 finest in the world. Glades of huge 100-year-old tree-ferns mingle with a forest of rhododendrons, magnolias and camellias under a canopy of ancient oaks, beeches and giant Chusan Palms. There are cascading streams, fish-filled ponds, an ampitheatre and a private beach overlooking Cornwall's Helford River.
A plant centre, and shop are on site and Planters Café offers tasty seasonal dishes. Alternatively, head to The Boathouse Café, situated on the beach.
Opening Times
The gardens are usually open every day, all year round.
10:00am – 4:00pm
Last entry 3:30pm
Trebah Garden Gallery
Images courtesy of Visit Cornwall.
Pinetum Gardens
With a collection of over 6,000 plants and many truly magnificent trees, Pinetum Gardens are set in over 30 acres on the warm sheltered coast of St Austell Bay.
A delightful walk takes you through many different themed gardens including woodland, Japanese, winter, cottage, sunken and of course the pinetum itself.
Species are carefully labelled and there's an on-site shop and Courtyard Kitchen for a bite to eat.
Opening Times
The gardens are usually open every day, all year round.
10:00am – 6:00pm
Last Tickets sold 4:30pm
Pinetum Gardens Gallery
Images courtesy of Pinetum Gardens.
Trewithen
An RHS-recommended garden, Trewithen is a Camellia Garden of Excellence and has a number of superb champion trees. Exotic ferns, woodlands and wildflower meadows grace the estate and parkland, which totals over 200 acres.
At its heart is the historic house. Bought in 1715, Trewithen is a family house, altered throughout the centuries and retaining some fine examples of unique architecture.
Usually open March – June and on bank holiday weekend in August. Grampound Road, near Truro.
Tregrehan
An important woodland garden, Tregrehan supports many species collected by enthusiastic explorers from around the world in Victorian times. Now a gene bank for sourced species, the 20-acre woodland garden has been built up by the Carlyon family over the centuries.
Open on selected days from Mar – Aug. Par, St Austell.
Bonython Estate
The Bonython Estate and Georgian Manor House is located on the southernmost tip of the Lizard Peninsula. Herbaceous borders lead to a Cornish orchard and onto a series of lakes; one mysterious and surrounded by bamboo; one planted with hot South African colours and a third tranquil and surrounded by specimen trees and shrubs.
A Potager garden enjoys a microclimate and produces ornamental vegetables and flowers for the manor whereas the Courtyard garden offers an array of colourful flowers.
Usually open from April through to September. Helston.
Caerhays
Home to the Plant Heritage Collection of Magnolias and where the first x williamsii Camellias were bred, Caerhays Castle with its 140 acres spring gardens have been referenced as 'world class'. Kew Gardens have recognised its 'outstanding importance' as have English Heritage.
The estate incorporates beaches and coastal paths and has its own microclimate. This means plants, often originating from China, such as magnolias and rhododendrons, thrive in the sea mists and humidity. Many species are unique to the gardens and have been collected and planted since the 1900s.
Usually open from Feb/Mar to June. Gorran, St Austell.
Trewidden
A magnificent 15 acre estate showcasing Camellias, Magnolias and one of the largest tree fern dells in Europe, Trewidden has many rare plants and species. An International Camellia Garden of Excellence, over 300 varieties are cultivated. There's a shop on site along with a tearoom.
Open February to September. Buryas, Penzance.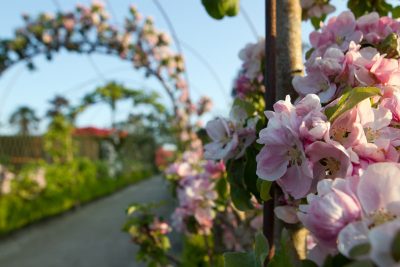 Tregothnan
Better known as the home of Cornish tea, Tregothnan is a family estate and has the largest botanic garden in Cornwall. Dating back to 1334, rare trees and shrubs were originally introduced over 200 years ago and then it was realised how well Camellia Sinensis, or tea plants, grow in the microclimate there.
Now lush tea plantations thrive alongside British flowers. The estate is also known for producing Kea plum jam, Manuka and wildflower honey and charcoal.
Open for a charity weekend once a year or for private tours. Tresillian, Truro.