Doc Martin
The fictional seaside town of Portwenn is actually the very pretty harbour village of Port Isaac, on the north Cornwall coast.
Doc Martin country
Quaint little granite cottages, narrow winding streets and a beautiful harbour can be seen throughout the TV series Doc Martin. Named 'Portwenn' in the series, the actual location is Port Isaac on Cornwall's stunning north coast and yes, it is really like that!
Makers of the series were keen to capture a sense of nostalgia and a simple way of life in a close-knit community, where everyone seems to know what everyone else is doing. The pretty harbour and scenery around the valley and headlands leading down to Port Isaac made the perfect backdrop.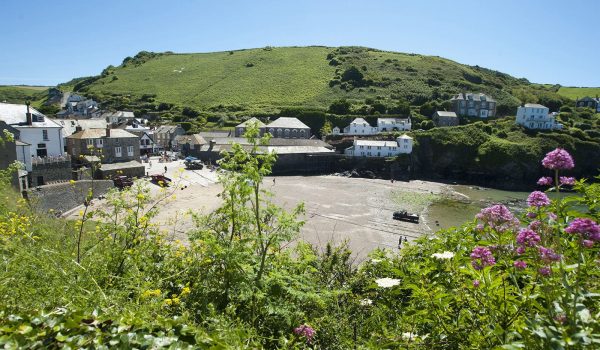 Port Isaac's residents are old hats at giving up their village for film crews. Some scenes from the original 1970s Poldark series were filmed there, as well as Saving Grace, the film preceding Doc Martin.
Other films with scenes in Port Isaac include The Shell Seekers, Oscar and Lucinda, The Nightmare Man and Fisherman's Friends.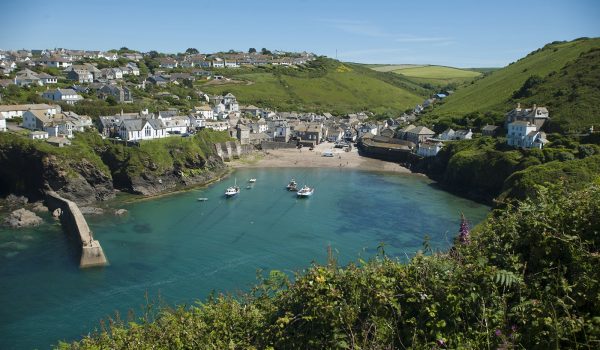 When it's not starring in films or Doc Martin, Port Isaac is a traditional working fishing village. There are galleries, craft shops and rows of pretty whitewashed cottages.
There are enough eateries to please even the pickiest of diners. Two of note are the 1 Michelin starred restaurants owned by Chef Nathan Outlaw.
Port Isaac also lays claim to one of the narrowest passages in the country: Squeeze Belly Alley (sometimes spelled Squeeze-ee-Belly Alley)
It is an alley that runs from Fore Street to Dolphin Street, whose official (and original) name is Temple Bar and is particularly narrow.
It was recorded in the Guinness Book of Records in 1978, as the world's narrowest thoroughfare. At it's narrowest point, it is only 18 inches wide.
Definitely Squeeze/Squeezee!
Doc Martin locations
Many exterior shots were filmed around Port Isaac, Port Gaverne and Roscarrock.
Fern Cottage, or Doctor Ellingham's Surgery, can be found just past Port Isaac's harbour on the coast path to Port Quin. Bert's Restaurant is close by.
Louisa's house is in Fore Street, Port Isaac.
Port Isaac village shop is the Liberal Club in the series.
The Golden Lion Pub in Port Isaac is where the Doc enjoys a pint, and where cast and crew members would often drop in for a social!
Mrs Tishell's Chemist Shop is a private residence in Middle Street called 'Little Dolphins.'
Aunty Joan's Farm is located at Dinnabroad Farm in St Teath.
Set high above Port Quin, Doydens Castle is where Mrs Tishell declared her unrequited love for the Doc.
The 12th century St Nonna's Church in Altarnun was the location for both Doc Martin's jilted wedding and his eventual marriage to Louisa.
Many interior shots were taken at Roscarrock Manor Farm on the outskirts of Port Isaac.
School scenes in series 3, 4 and 5 were taken at Delabole Primary School.
The real Royal Cornwall Hospital in Truro features in all hospital scenes.
Doc Martin and Louisa's first date took place at Pencarrow House, Bodmin.
St Winwaloe at Gunwalloe Church Cove was where Aunty Joan's funeral took place.
The Old Inn in St Breward can be recognised as being where the birth of Doc Martin and Louisa's baby took place.
The train station shown in a few scenes is Bodmin Parkway station.