Coastal Adventures
Get to know Cornwall from a whole different perspective!
The thrill of the jump
Coasteering is a popular sport in Cornwall. Leaping into the unknown can really get the adrenaline pumping! Cornwall's granite cliffs and rocky outcrops are great for climbing, all with swirling white water beckoning below.
Explore ancient cave systems, navigate parts of the usually inaccessible coast and experience adventure swimming.
With miles of coastline, you'll never run out of places to explore!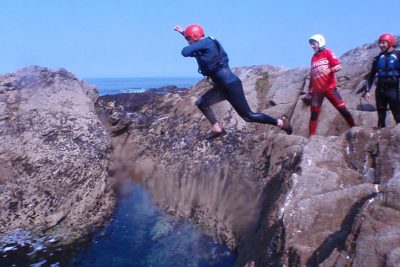 Join the professionals
Coasteering takes place all around Cornwall's coast and is best done under knowledgeable guidance. It can also be great fun in a group.
Companies such as Hot Rock Coasteer are specialists in the Newquay and north Cornwall whereas Kernow Coasteering operate in west Cornwall. A specialist will be able to guide you through, giving you the ability to explore often inaccessible places.
[/column]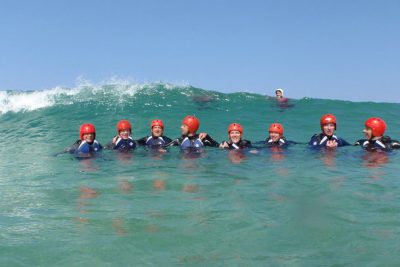 Windsurfing, Jet Skiing & more
Of course, there are lots of ways to enjoy the water and the beach as well. Cornwall hosts Polo on the Beach, Tall Ships, Regattas and even the National Bellyboarding Championships!
At most beaches you'll find a specialist surf company or activity provider offering a range of activities. In popular areas such as Watergate Bay, Padstow and Newquay there will often be sea safari providers, sailing clubs and clubs providing other water based activities .