Coastal Adventures
Get to know Cornwall from a whole different perspective!
The thrill of the jump
Coasteering is a popular sport in Cornwall. Leaping into the unknown can really get the adrenaline pumping! Cornwall's granite cliffs and rocky outcrops are great for climbing, all with swirling white water beckoning below.
Explore ancient cave systems, navigate parts of the usually inaccessible coast and experience adventure swimming.
With miles of coastline, you'll never run out of places to explore!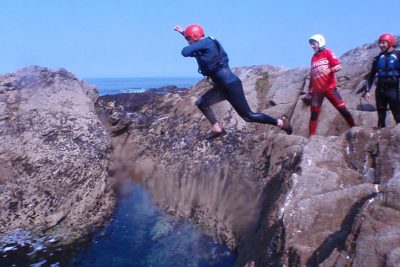 Join the professionals
Coasteering takes place all around Cornwall's coast and is best done under knowledgeable guidance. It can also be great fun in a group.
Companies such as Hot Rock Coasteer are specialists in the Newquay and North Cornwall area and will guide you through, often with the ability to explore often inaccessible places.
[/column]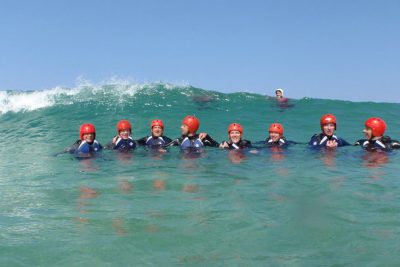 Windsurfing, Jet Skiing & more
Of course, there are lots of ways to enjoy the water and the beach as well. Cornwall hosts Polo on the Beach, Tall Ships, Regattas and even the National Bellyboarding Championships!
Take a look at Active-8-Cornwall, a simple to use website for some of the very best holiday activities in Cornwall – Horse Riding – Canoeing – Wet & Wild Days – Coasteering – Surfing – Deep Sea Fishing, and much more. You can check availability and book on-line.