Great Walks
From the south west coast path to off road inland trails, there's plenty to explore on foot in Cornwall.
The South West Coast Path
Whether you're an avid walker, cyclist or just enjoy a gentle meander around the beaches in Cornwall, you're bound to encounter some of the South West Coast Path whilst on holiday. Stretching for 630 miles from Minehead in Somerset to Poole Harbour in Dorset, the South West Coast Path encircles the whole of the Cornish coast.
Whilst the precise routes have been mapped for the last 30 years, the Cornish coast has been an important asset to the county for thousands of years and it's quite something to tread in the footsteps of our ancient ancestors.
To help you plan your South West Coast Path route follow the interactive map option on the South West Coast path website.
[/box]
Trails and ancient footpaths
Over 2,000 miles of footpaths meander through Cornwall, many following ancient routes and crossing through Areas of Outstanding National Beauty (AONB). For further inspiration, take a look at our cycle trails page.
Saints' Way
Following the path early Christians most likely took to get from the north to the south coast, the Saints' Way spans from Padstow to Fowey and is really convenient for many of our holiday properties! The route is roughly 27 miles long and takes in part of the Camel Trail before passing through woodlands, moorlands, villages and historic places.
Porth to Watergate Bay
Around 2 miles long, head from Porth beach to Trevelgue Head where there's the remains of an iron age fort. There are also bronze age barrows here and stone age tools have been found. There's also an amazing blowhole at the end of Porth Island. Continue to Whipsiderry and then enjoy the golden sands all the way to Watergate Bay.
Tintagel to Boscastle
Picturesque walk which stays close to the coastline. Enjoy English Heritage and National Trust sites, mystical woodland at St Nectan's Glen, a valley and one of the prettiest harbours in Cornwall, at Boscastle. There's a few rugged descents and climbs and in all the route is around 9 miles.
Fowey Hall Walk
A circular riverbank route taking in the Boddinick and Polruan ferries.
St Agnes to Perranporth
Sample Cornwall's mining past and discover the heritage coast around St Agnes where you'll see engine houses and old aircraft shelters.
Tehidy Park
Great for all ages, Tehidy's woodlands offer circular walks of varying lengths. There's a lake and wonderful natural wildlife plus a tea shop and picnic areas.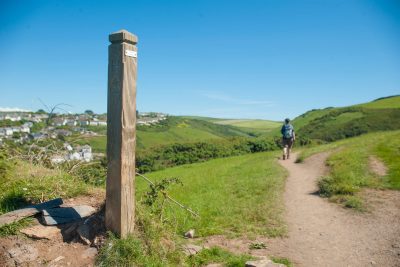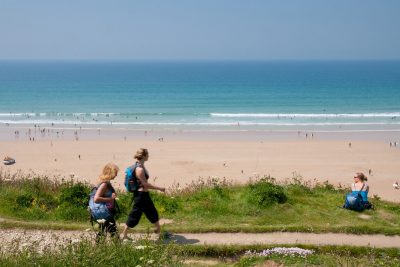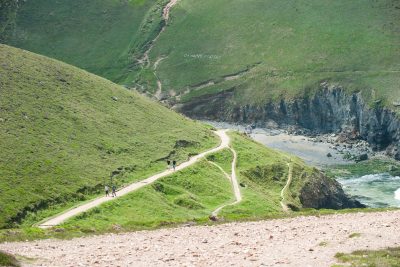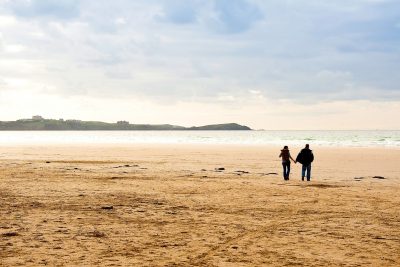 Nestled on the cliffs and harbours throughout Cornwall are a plethora of disused tin mines, artillery defences, churches and sites of historical interest. Ancient Castles such as Tintagel on Cornwall's north coast, burial mounds around Fowey on the south coast and the iconic island of St Michael's Mount in the west, hint at a county steeped in myths and legends.
Visit Perranporth Church, the site where the 6th century Saint Pirran first landed, or view the carved bench at St Senara's Church; a reminder of the mermaid of Zennor, who allegedly lured a fisherman to his death.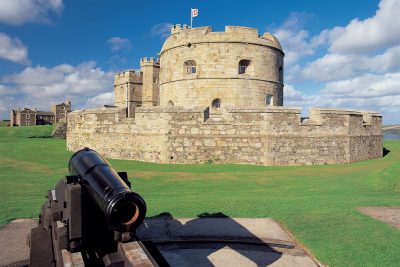 The Tudor castle of Pendennis and surrounding Napoleonic forts were important strategic defences throughout the centuries. Many are English Heritage sites and can be visited along the way.
Church towers and battlements provided great vantage points to watch for invaders whilst also providing refuge to families awaiting the return of their fishermen from stormy seas.
The fortified harbour of Falmouth contrasts with the preserved Georgian shipping one at Charlestown and again with the vast fishing harbour of Newlyn.
It's still possible to see the sites of Pilchard sellers dotted amongst art and craft studios in the area, underlining two of Cornwall's important trades.
Arguably Cornwall's most important export came from its natural geological deposits in the form of tin, copper and lead ores. Many of the former mining sites are now situated on World Heritage sites and that combined with the flora and fauna of the natural landscape make for some of the most breathtaking walks in the county. With isolated mine buildings standing precariously on cliff edges surrounded by sea stacks and rolling hills such as those found at Pentire Point, the landscape is truly stunning.
Formed from 370 million year old volcanic activity, the once industrial landscape also bought the railway to the coast in order to transport mined minerals and with the advent of new transport, seaside towns such as Newquay then rose in popularity as holiday destinations.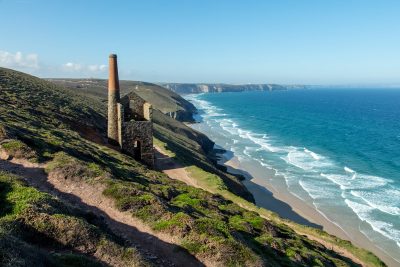 Coffee and lunch stops
One thing you will not be short of on your travels is food and drink. Cornwall loves to promote its locally sourced food and whether you need to grab a quick crab sandwich, eat a gourmet meal or opt for a delicious cream tea, cafés and restaurants will be close at hand.
There are many National Trust and estate houses and gardens available to pop in to visit on your way. There is also a plenty of restaurants, some owned by famous chefs. Padstow, Watergate Bay, Falmouth and Fowey are all top choices. Of course, our own Beaucliffes Restaurant is a great choice whilst on the north coast near Porth. Book for breakfast, lunch, afternoon tea or evening fine dining.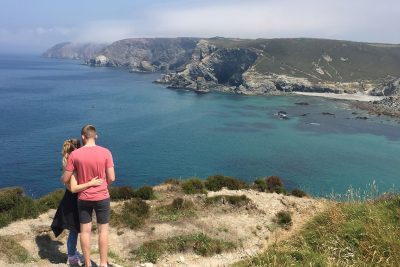 Beaches
You can't fail to walk the coast path without visiting some of the wonderful coves and beaches along the way. Cornwall is home to some amazing beaches and 158 miles of the Cornish coast has Heritage Coast status.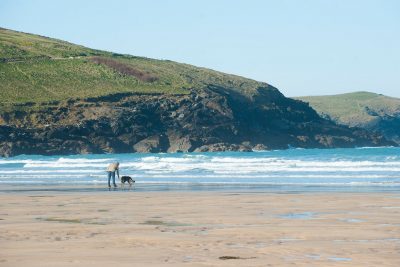 Dog friendly
Dogs and walking go hand in hand and should you wish to bring your four legged friend with you on holiday, then check out our 'Dogs Welcome' page which lists our dog friendly accommodation, as well as a beach guide and dog friendly pub locations.