Dog friendly self-catering holidays in Cornwall
Holiday with the whole family!
Cornwall is the perfect destination if you want to take your dog on holiday with you. There are lots of year-round dog friendly beaches and eateries, perfect for exploring.
We have a number of villas, cottages and apartments where up to two well-behaved dogs are welcome. There is a supplement of £6 per dog per night. Advanced booking is essential.
Registered guide/service dogs are welcome free of charge.
Juliots Well Cottages
4-star accommodation set in 33 acres of wooded parkland overlooking Lanteglos Valley. There are dog exercise areas within the park plus a number of excellent walks from the park.
One delightful walk is along a beautiful wooded footpath to Advent. There's another picturesque walk – about one and a half miles – through fields and along a riverside path into Camelford town.
Up to 2 dogs are accepted in a limited number of cottages.
Bay Retreat Villas
The villas are set in St Merryn Park where there is a dedicated dog walking and exercise area.
There are many lovely walks in the surrounding countryside with seven bays and beaches within a short car drive. Porthcothan is just 2 miles away with Harlyn, Mother Iveys, Booby's Bay, Constantine and Treyarnon all within 5 miles. All are dog friendly throughout the year.
10 villas are specifically allocated as dog friendly, each with their own small garden or gravelled area.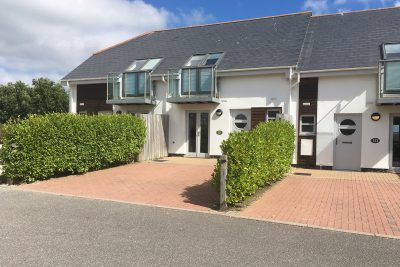 Green Acres Cottages
Green Acres Cottages sits in 2 acres of rolling countryside. There is no specific dog exercise area but the rural setting makes for fantastic walks, many off-road. There is also a public footpath nearby which leads to a valley around half a mile from the cottages.
Please note dogs must be kept on a lead at all times in the Green Acres vicinity as it is a working farm with livestock.
A limited number of cottages are dog friendly.
Porth Cottage
With its own garden, Porth Cottage is ideal for a dog friendly holiday. It's also just two minutes walk from Porth beach and although there is a seasonal dog ban between 9am and 7pm, during these hours there are lovely walks along Porth Island.
Dogs are welcome on the adjacent beaches of Whipsiderry and Lusty Glaze. Watergate Bay to the north and many of the beaches close to Newquay town centre are dog friendly. Trenance Gardens, in Newquay, are also a lovely place to take a walk.
The Beach House
Located right by Porth beach (dog friendly October to Easter), there are fantastic walks over the headland to Newquay or to Watergate Bay and beyond. Lusty Glaze, the next beach to Porth is dog friendly throughout the year as is Great Western and Fistral in Newquay.
The Beach House offers one 2-bedroom rear view dog friendly apartment and one 3-bedroom sea view dog friendly apartment.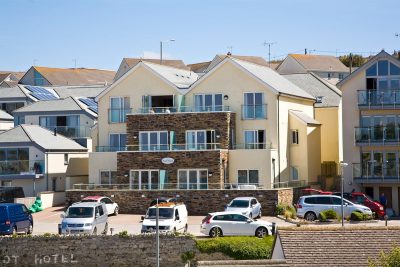 Waves Apartments
Located just 100 yards from the sandy year-round dog-friendly beach at Watergate Bay, apartment 14 at Waves also has an outside decked area for extra space for your canine companion(s).
If Watergate Bay's long stretch of sand and rock pools aren't enough of a pooch playground then the south-west coast path offers great walks across the cliffs to other local beaches, many of which are dog friendly all year.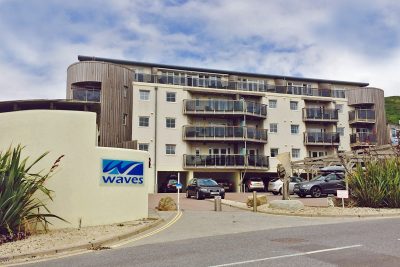 Tregurrian Villas
Watergate Bay is a year-round dog friendly beach and Tregurrian Villas are just 100 yards from it!
Coastal walks and further beaches are within easy walking distance. Newquay is just 3 miles to the south and Padstow 20 miles to the north. En route to Padstow there are 7 spectacular beaches and bays to explore.
Two of the three villas are dog friendly.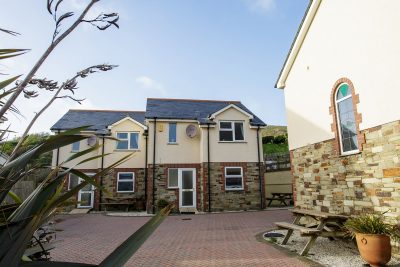 Mawgan Porth Apartments
Located in an elevated position above the year-round dog friendly beach, the area has some wonderful walks.
There is a fantastic circular walk exploring the countryside to St Mawgan and back.
One 2-bedroom rear view and one 2-bedroom sea view apartment are dog friendly.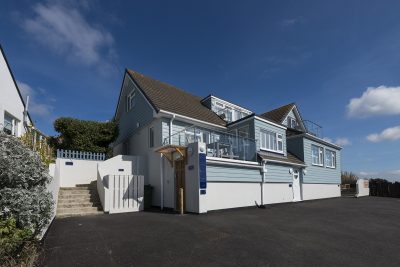 Dogs
Dogs must be kept on a lead at all times at all of the holiday complexes and muzzled where necessary. Owners must take responsibility for the behaviour of their dog(s) as it is important that no inconvenience or nuisance is caused to any other guests. It is essential that all guests comply with the site rules, supplied on arrival. Failure to comply with these rules will result in expulsion. If unsure please ask when booking.
Under no circumstances must any dog(s) be left unattended in the cottages, villas or apartments.