River and sea adventures
Naturally, watersports are a big part of life when you live in a county surrounded by the ocean and kayaking has really taken off in Cornwall with the help of Koru Kayaking. The team behind the venture are Tom and Hetty Wildblood who are both passionate about the sport and the wonderful county of Cornwall.
Koru offers 2 hour or full day guided kayak adventures on tandem kayaks with back supporting seats. All tours are led by an experienced guide. No experience is necessary, as a full briefing will be given prior to all kayak adventures. Buoyancy aids and water are provided, wetsuits are available for hire and the guide takes safety equipment with them on every tour.
Koru's Kayak Adventures are great for team-building, groups, families, couples and solo explorers. Children are welcome, but must be accompanied by an adult on the kayak.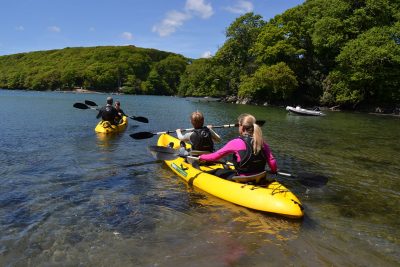 Hetty writes:
"Koru Kayaking offers one of the best ways to discover Cornwall's coastline, from the drama of the North Coast to the serene and calm waters of Helford River and Frenchman's Creek."
Koru's North Coast Kayak Adventure
Launches from the picturesque Trevaunance Cove in the village of St Agnes. This part of the coastline is a World Heritage Site and we enjoy kayaking to the East or the West of the cove dependent on sea and weather conditions. Cornish mining has left behind stunning caves carved out into the rock face, archways and mooring up on secluded beaches. Bright green (copper oxide) and red (iron) rocks unveiled by the mining can be seen all along the coastline, most notably at Hanover Cove. A geologist's delight! 'The Prison', a walled beach, has to be seen to be believed and there are plenty of secluded beaches to moor up and have a swim.
Grey seals, basking sharks, sunfish, dolphins, shags, oystercatchers and guillemots have all been spotted on this kayak adventure.
Koru's Frenchman's Creek Kayak Adventure
Launches from the Budock Vean Hotel foreshore. We kayak along Port Navas Creek, along the Helford River past banks lined with ancient oak trees. On a high tide, we kayak down the serene Frenchman's Creek, the inspiration for Daphne du Maurier's novel and also the location for international pop sensation Kylie Minogue's pop video 'Flower.' On a low tide we enjoy the beaches on the Helford River and kayak up towards Gweek and Polwheveral Creek.
Egrets, herons, kingfishers and cormorants are often spotted on the kayak adventure.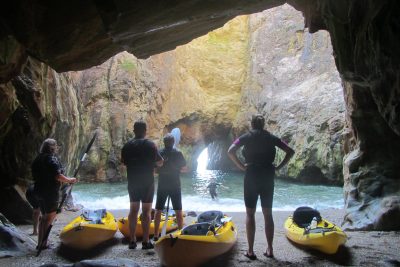 Tom and Hetty Wildblood, the founders of Koru Kayaking, are passionate about exploring the Cornish Coastline. They take photos of all their kayak adventures which can be followed on their Facebook 'Koru Kayaking' and Twitter 'KoruTom' pages.
A DVD of your kayak adventure will be available for purchase.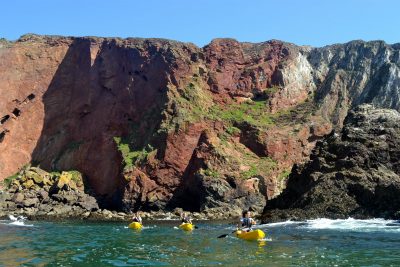 "Can't recommend this enough. Well run, quality equipment, superb location. Suitable for anyone who is fairly active and fit. Seals, tunnels, hidden beaches, a swim in clear blue water. Really enjoyable and definite value. Would do it again." Rich T
"I have been out with Koru Kayaking twice now and am looking forward to at least another dozen trips. Both experiences have varied enormously from the very exciting to the absolutely enchanting, but the kayak mode of transport offers unique opportunities to explore and experience the coastal coves." Ridge, Trip Advisor
"Very well organised. Lots of communication. Had to change locations of the trip because of rough sea. But still a great couple of hours. Well worth a go. Relaxing trip lots of laughs do another next year." Peter E