Accessibility at our accommodation
Within the Breaksincornwall.com portfolio we have a limited number of properties which are suitable for clients with accessibility needs.
Should you have specific requirements, please give us a call on 01637 873 274 in advance of booking and we'll be able to advise you.
Beachcombers Apartments
One apartment (number 3) at Beachcombers is fitted with some disabled-friendly features (see images in gallery below):
Wheelchair friendly apartment
Wet room with pull down handrail
A wet room stool can be supplied for apartment use only, upon request
There are two ground floor apartments, both with easy level access from the main car park.
There are a further three ground floor units, albeit situated a longer distance from the lower car park where access is either by a flight of steps or via the sloped footpath in front of the apartment building.
Gallery – Beachcombers Apartment 3
Properties served by a lift
There is a lift at Waves Apartments, however the apartments are entirely unsuitable for wheelchair users although each apartment is on one level.
Similarly, there is one ground floor apartment at The Beach House and the others are served by a lift. The apartments are entirely unsuitable for wheelchair users but are on one level.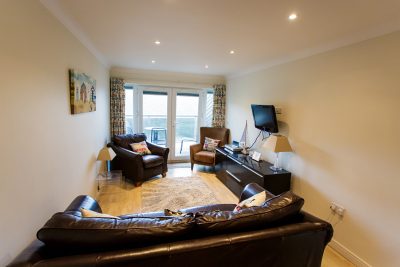 Porth Veor Manor Hotel, Villas & Apartments
For guests who may have walking difficulties, the hotel has no lift although the bar, restaurant and conservatory are all on the ground floor. All hotel bedrooms are on the first or second floor and are therefore unsuitable for those confined to a wheelchair or for those with severe walking difficulties.
We do have one apartment which may be suitable and this can be booked on a bed and breakfast or self-catering basis. Please note there are steps from the pool area and surrounding villa and apartments to the hotel.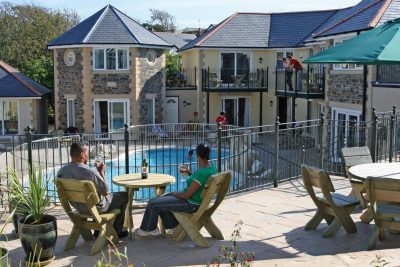 Other properties
Whilst disabled clients are most welcome at any of our properties, the following are entirely unsuitable for those confined to a wheelchair. However, some have level access or are on one level.
White Lodge Apartments are situated on the ground floor although there is a fairly steep walk down to the beach.
Most cottages at Green Acres have level access from the car park. The cottages have an open plan ground floor living area with a double sofa bed and most have a downstairs WC with a shower. Many cottages also have level access to the patio.
Similarly, Bay Retreat Villas have an open plan ground floor living area with a sofa bed. However, although there is a downstairs toilet, the bathroom is upstairs.
Our remaining properties have more than one floor.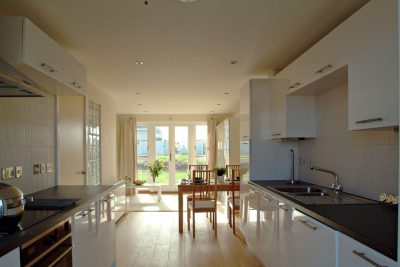 Where you have specific requirements please contact us prior to booking and we will do our utmost to meet your needs wherever possible.