Cornwall's secret beaches and quirky coves
Miles of coastline
Cornwall's popular surf beaches are well known but the county also has its fair share of secret beaches and quirky coves waiting to be discovered.
Browse our online offers for the best prices on holiday accommodation in Cornwall and discover some heavenly hideaways for yourself.
Hawkers Cove
Padstow's little hidden gem hides a dark curse. A notorious 'Doom Bar' of sand lies across the mouth of the estuary with Hawkers Cove on its west side. The little hamlet with its former lifeboat launch is just north of Padstow and the Doom Bar, hidden at high tide, has caused many a ship to wreck. Legend has it that it was put there by a mermaid shot by a mortal man and her cries can be heard whenever a ship grounds.
Accessed via the St Merryn to Padstow Road, stop off at Lellizzick (recognisable from the Poldark opening scenes), as traffic is discouraged beyond there, then take the track to Tregirls beach and then to the coast path.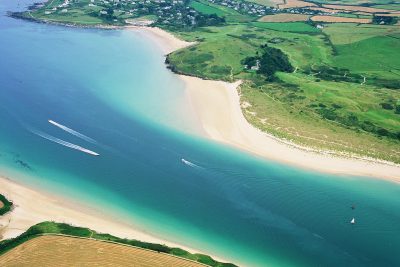 The Camel Estaury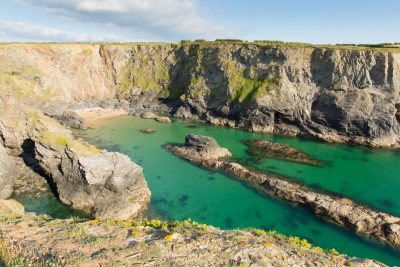 Fox Cove
Fox Cove
A little further south but still on the north coast near St Merryn, see if you can find Fox Cove. Park at popular Porthcothan beach and then make your way across the bridge towards a coastal track. The beach may be covered at high tide!

Carnewas and Bedruthan Steps
Further south, stop at the National Trust café on the cliff top at Carnewas before descending the cliff staircase to see the amazing giant rock stacks on Bedruthan beach. Check the tide times first as the beach can get cut off. At very low tide explore a little further and you'll reach the secluded sand patch at Diggory's Island.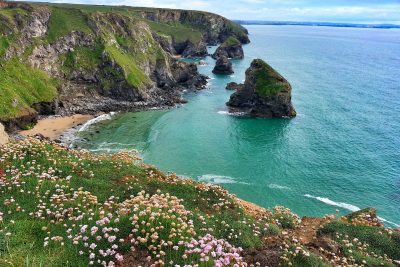 Bedruthan Steps
Portheras Cove
Portheras beach was completely out of bounds until 2004 when the sharp fragments of a wreck were finally cleared from the sand. The little-known sandy cove can be found at the end of the valley between Morvah and Pendeen.
Gwenver
The quiet sister of famous Sennen Cove, on a clear day you can spy the Isles of Scilly from its golden sands. Tricky to access and surrounded by granite rocks, the beach is open to the wild Atlantic.
Nanjizal Bay
Park at Land's End and walk 3 miles to be treated to this beautiful bay with its rock formations including a tall narrow naturally formed arch known as the 'Song of the Sea' and the 'Diamond Horse' which captures the sun's rays. The sandy beach with huge caves comes complete with a waterfall and stream. This is the true Land's End.
Pedn Vounder
Stunningly beautiful with the tall granite cliffs of Treryn Dinas sheltering the golden sand and clear water, it's worth the 10-minute walk from Treen to play with the 70-tonne Logan Rock which can be rocked to and fro by one person. At low tide, park at Porthcurno beach and access Pedn Vounder that way.
Kynance Cove, Pentreath beach and Housel Cove
Take a walk around the most southerly part of the British mainland at Lizard Point and you'll see one of the most photographed beaches in Cornwall, yet still fairly inaccessible. The aquamarine water and soft white sand at Kynance Cove lend any photographer a hand. Jutting rock stacks surround the cliff edge and a small peninsula of sand remains uncovered until high tide. A network of interconnected caves reveals the coves smuggling past. However, for a truly secret beach follow the southwest coast path towards Pentreath beach and onto Housel Cove, hidden at the foot of a steep valley. Cut off at high tide, check the steps are safe before descending.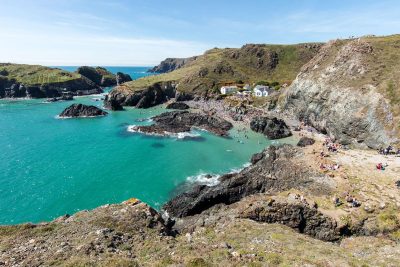 Kynance Cove
Hemmick Beach and Dodman Point
Heading into The Roseland Peninsula on Cornwall's south coast, it's a great place to catch the sunrise or sunset. Sandcastle-grade sand and a stream will be waiting at the foot of the steep path. Try accessing Percunning Cove at low tide or take in the spectacular views from Dodman Point.
Lantic Bay
The sand and shingle sun trap of Lantic Bay on the south coast is tricky to access but is a secret escape with stunning views. Meander through the wood and farmland to a continuous stretch of steep steps and the turquoise water and moon-shaped beach are a just reward.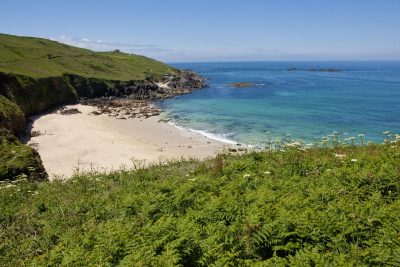 Portheras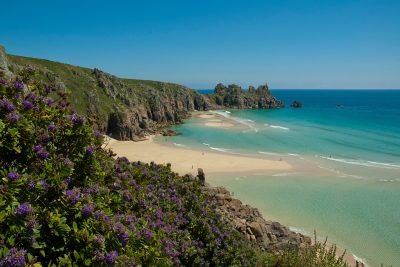 Porthcurno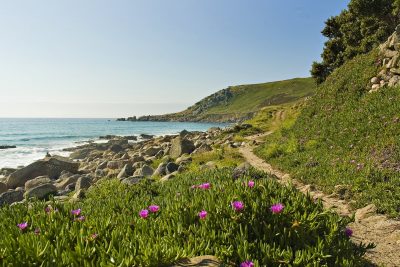 Gwenva
Not so secret but did you know?
Porthcurno beach, 4 miles from Land's End, has a network of underground telecommunications cables laid underneath its sand which connected Britain with America. A series of World War II tunnels also runs through its cliffs which protected valuable equipment. The most quirky outdoor theatre is in residence on the cliffs here. The Minack Theatre sits on a jut of granite slate surrounded by subtropical gardens. On a clear day, you may possibly miss the performance though if entranced by the stunning sea views!
We recommend you check tide times and pay heed to warning flags as many of these secret beaches involve steep descents, and currents and are subject to being submerged at full tide.
Understandably this is why shipwrecking and smuggling took such a strong hold in these vicinities!