Memories are made in Cornwall
Holidays that last for a lifetime
What does a holiday mean to you? A break from work, an escape from the everyday?
When Visit Cornwall, Cornwall's tourism board, sat down and pondered the question, they realised for many it's the memories they can take away from a good holiday and often for those with families, the ability to pass on the enjoyment they experienced as a child.
Bucket and spade memories can last a lifetime and memories are made in Cornwall!
Whether you're a family wanting to enjoy some seaside fun with a toddler, if you have older children who want to experience the famous surf beaches or are a couple looking for an escape rich with fresh local food, great walks and adventure, Cornwall has it all in spades. Using the hashtag #lovecornwall, Visit Cornwall asked people to tweet their favourite memories:
Don't want to boast, but just shared some fun waves with a pod of dolphins +an amazing sunset…
Coffee in Fowey, cream tea in Padstow and then this view at Bedruthan Steps #lovecornwall
Sunday roast, glass of red, great company, log burner, making our cottage cosy…perfect Sunday eh?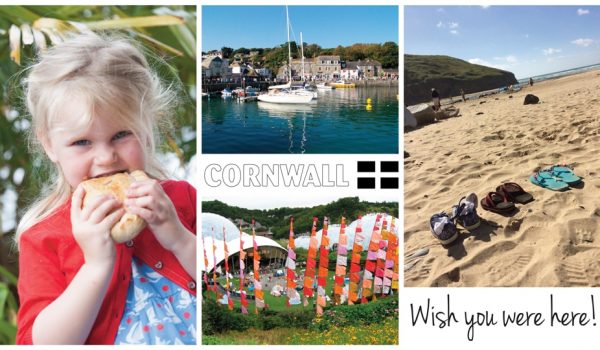 Great holidays also give you choices and Cornwall will willingly do that! Yes, the beaches are fabulous and can occupy you for an entire two weeks but inland the countryside is a haven for wildlife. You can spend a morning rambling the wild moors of Bodmin, an afternoon discovering a historic site, and an evening sampling tasty fresh cuisine prepared by a famous chef. Then tomorrow you can have a whole new adventure – cycle The Camel Trail, go on a sea safari, visit The Eden Project, enjoy sub-tropical gardens, walk to a castle linked by a causeway, have fun in a theme park, venture down a tin mine, discover King Arthur's realm, follow in the footsteps of the Cornish Giants, go on an artists trail, join in with a festival or sample the latest food fair.
#lovecornwall
Short and sweet we'll leave the last words to those on Twitter:
#cornwallbeaches Leave nothing and take nothing away. I'm taking it all in my mind! Until the next time…#lovecornwall #nowherebetter
I created new memories on my short summer break in #lovecornwall….
Ever had a holiday that makes you want to sell up, move and never leave where you are? #lovecornwall
What are your memories? Tell us with #cornwallforme
We're always keen to know what you think and really appreciate the reviews left by people after visiting. Have you a memory of Cornwall you'd like to share with us or would you like to know more before you visit? You can reach us on our social media accounts to let us know what you think and ask questions. Use the hashtag #cornwallforme and we'll look out for it:

Breaksincornwall

@breaks_cornwall