2023 marks the 50th Anniversary of this Trailblazer Walk
The modern-day South West Coast Path is England's longest waymarked footpath. It has its origins as a 19th-century coastguard patrol route used to restrict smuggling. The total climb over its entire length is 114,931 ft (35,031 m) almost four times the ascent of Mount Everest!

South West Coast Path
This stunning walking route, which stretches for 630 miles (1,014 km), is one of 15 National Trails (in England and Wales). It takes travellers on a journey through some of the most breathtaking scenery in England from Cornwall to Devon and beyond.
Along the way, it provides an opportunity to explore the wild beauty of this region, with its rugged cliffs, sandy beaches and picturesque villages. Walkers can discover hidden gems such as secret coves and mysterious caves and spot wildlife such as seabirds and dolphins.
The South West Coast Path was and still is, an excellent way for artists and photographers to capture the beauty of this area in their work.


Engine House on the South West Coast Path

50th Anniversary
In celebration of this special anniversary, you can join them on an epic relay walk along the entire 630 miles, with an endpoint at the Association's HQ in Royal William Yard, Plymouth!
Each day will be split into a morning and afternoon walk. Booking is essential, but spaces are limited. It's free to join any of the walks. Further details and full itinerary. There's even a distance calculator to help you plan your walk.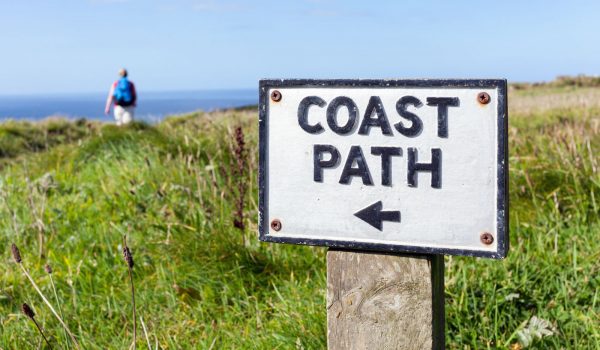 On the coast path to Tintagel

North Cornwall
Marsland – Newquay (66 miles)
With over 2,500 m of ascent, you'll need to brace yourself for some seriously calf-burning walks. This section is not for the faint-hearted, as you'll come across some challenging rise and falls, not to mention the winds blowing off of the wild Atlantic Ocean.
If none of the above puts you off, your spirit of adventure will thrive on this wild and rugged portion of the South West Coast Path.
West Cornwall
Newquay – Falmouth (144 miles)
From the cliffs west of Newquay, you'll find atmospheric crumbling engine houses, dramatic granite cliffs, and areas teeming with wildlife. Along with sea birds, seals, and dolphins, in early summer basking sharks are frequently seen, particularly from the headlands of west Cornwall.
Scenic sandy beaches like Holywell Bay and Perranporth lead on to the old fishing port of St Ives being famous, more recently, for its thriving artists' community.

South Cornwall
Falmouth – Plymouth (76 miles)
This south Cornwall section of the Coast Path is a little quieter. It has secluded sandy bays and impressive headlands.
It's not only more sheltered than other parts but also known to be the perfect getaway from the stresses and strains of modern life. It's a charming, sheltered and tranquil stretch of the coastal path.

Should you wish to take part in this epic relay, you could always put your tired feet and legs to rest in one of our properties, which are situated on the North and South Coast of Cornwall.